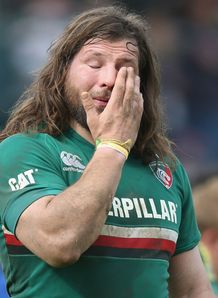 Related links
Teams
Also see
Martin Castrogiovanni has taken a big swipe at Tigers chief executive Simon Cohen and director of rugby Richard Cockerill following his Toulon move.
The 31-year-old, who left Welford Road at the end of the season after a drawn out contractual battle, has given a no holds barred view of the duo.
"I am not ashamed to admit that I paid to join Toulon out of my own pocket. It was the only way I had to do it," the tighthead told The Rugby Paper.
"The only thing that really annoys me concerns the people at Leicester who handled the transfer, chief executive Simon Cohen and director of rugby Richard Cockerill.
"After all my years of service with Leicester, I did not expect them to behave in such an ungracious manner towards me. I must say they have disappointed me terribly.
"I have lost all respect for these two people, given the way they have spoken about me and the way they handled my departure."
Castrogiovanni added that he felt he was not given sufficient advice as to how he could oust Dan Cole for the number three jersey, who was ahead of him in the selection pecking order.
"When your club tells your agent you can leave if you want, you know deep down that they really want no more of you," he explained.
"I can totally understand that my coaches at Leicester consider Dan Cole to be better than me.
"I would just like them to have said so straight to my face and show me what I had to improve to play more. I only started six matches last season, so, of course, playing more was one of the main reasons for my departure.
"You cannot hope to keep everyone happy by changing the squad around systematically and I can assure you that there are very few happy players at Leicester today. That is hard to say, but the truth cannot remain hidden forever.
"It is not the fault of the club because there are wonderful people working there and the Leicester fans are the same. I have always been straight with the club and its directors."