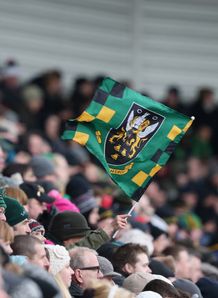 Related links
Teams
Northampton have announced that former club chairman Leon Barwell has lost his long fight against cancer.
Barwell had been battling the disease for 18 months, but after a recent deterioration of his condition he passed away at 9:30 this morning.
A life-long Saints supporter, Barwell, 46, played an important role in the club's continued growth and development in the professional era.
A member of the board of directors of Saints since 1999, he was a key figure in many of the club's major projects over the past 14 years, including the development of Franklin's Gardens and the initial share offering of Northampton Saints plc.
Barwell was also a successful businessman outside rugby. A founding director of Vision Security Group (VSG) in 2000, he took over as Saints chairman following the sale of VSG to Compass Group.
In more recent months Barwell had been spearheading a programme of engagement between the club and supporters, which had included the re-introduction of the annual Open Day and the start of regular public meetings between the Saints' senior management and Season Ticket Holders.
He stepped down as chairman in early June.
Acting chairman Tony Hewitt expressed his sadness at the news.
"Today is a very sad day for everyone associated with Northampton Saints," he said.
"Leon was a massive part of the recent successes we have enjoyed, both on and off the pitch, and it is tragic for both the club and the Barwell family that he has been taken away from us just as the next chapter of his life was beginning.
"He was wholeheartedly committed to the club in every way possible, something that was demonstrated clearly in his determination to present the chairman's awards at our End of Season dinner only a few weeks ago and attend the Aviva Premiership Final.
"Going forward, it is vital that we continue Leon's legacy and look to realise his ambitions for the team and the club as a whole.
"But in the immediate future I am sure that Saints supporters everywhere will join me in expressing heartfelt condolences to Keith, Maggie, Paula, Ella and the rest of the Barwell family. Our thoughts are with them at this difficult time."