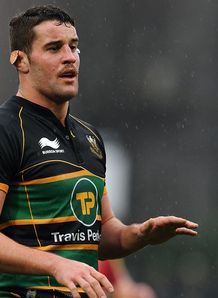 Related links
Teams
Northampton's Calum Clark may miss the remainder of the season as he continues his recovery from shoulder surgery.
Clark suffered the injury in a match against Glasgow in January and was forced to go under the knife. While it was initially hoped he would be back in the mix in time for the business end of the season, the 23-year-old admits this may not be possible.
"The timescale is quite broad for this," the flanker told BBC Radio.
"The surgeon said that could be the season, but we're hoping it could be better than that."
Clark's injury-enforced absence is made even tougher to stomach considering that he he was only able to play for the Saints 11 times after serving a 32-match ban for his part in an incident that left Leicester's Rob Hawkins with a broken elbow.
"I try and shut off," the former Leeds man said of missing out on the action. "It's very difficult when you want to be playing and want to be heavily involved.
"I've got other focuses so I try and think about those."