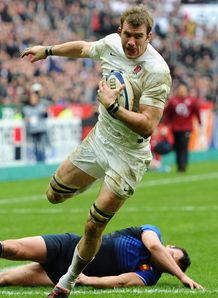 Related links
Teams
Leicester Tigers flanker Tom Croft is happy to have put his injury nightmare behind him after returning against Worcester.
Croft was sidelined for nine months with a serious neck injury that caused him to miss the start of the new season and the November Internationals.
However after a gruelling rehabilitation process, Croft made a successful return against Worcester last Friday, with the England international tipped to return during the Six Nations.
"In all honesty, I have thought no further than Worcester," said to the Leicester Mercury.
"It was just about getting through the game unscathed. I have been back and forth to dark places the last nine months, especially in the early months, and then coming back from recovery and thinking about playing.
"The last two-to-three months, I have just been thinking about this first game. Firstly, will I survive it? I've ticked that box - and, secondly, getting back to how I was playing before I got injured. So my thoughts haven't really gone further than that.
"It's a broken bone at the end of the day, and all you can do is as your told medically. You give it rest when it needs rest and, when you can start to build things up again, you can. I was hoping to be back November-December time, but scans showed otherwise.
"That was probably the most frustrating thing. The first sixth months you kind of accept, in terms of the severity of the injury, the last two months you are just saying 'am I ready, am I ready?' and you just keep getting pulled back.
"So it was nice to finally go over that threshold and play the game and come through."
"We have got two massive games coming up. It's up to the coaches where they think I'm at. I trust their judgement. Obviously, there is still room to improve fitness."