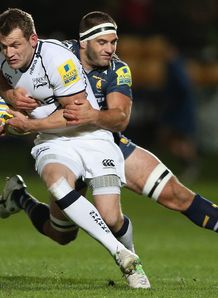 Related links
Teams
Sale Sharks wing Mark Cueto may set a new Aviva Premiership record when he and his outfit run out to take on Saracens at Vicarage Road on Sunday.
However, personal achievements are not on the veteran's mind as the former England wing looks to avoid relegation from England's top-flight.
Cueto needs one Premiership try to break the all-time career record of 75 held by his ex-Sharks colleague Steve Hanley. Yet on the back of a key victory over Worcester Warriors, the winger admits it is a critical period for his long-time club.
"I had never felt like I'd felt before that game," he said. "It sounds dramatic, but you are playing for your job.
"If we had lost, you would have to be honest and say you couldn't see a way back. In the back of my mind, I felt that if we lost we would get relegated. You cannot explain how massive it was.
"Things like that (records) are always nice, but at the minute I would take a win over beating the record or equalling the record.
"There are so many aspects of the game that are far more important to me than scoring tries.
"I know that is my job, and if I am in the right position I will score tries, but it's more about the team and doing the right thing for the team - making your tackles, working hard, catching the right balls."