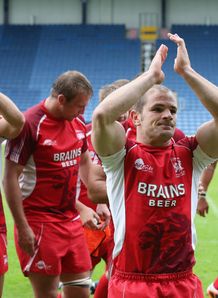 Related links
Teams
London Welsh have denied plans to purchase their current home ground in Oxford, the Kassam Stadium, despite reports on Friday.
Former managing director John Taylor had been quoted on BBC Oxford stating the club where considering the possibility of purchasing the ground, but the club have ruled out any such plans.
"London Welsh would like to confirm that they are not currently in negotiations over the purchase of the Kassam Stadium - their home stadium in Oxford," the club have said in a statement.
"This statement is subsequent to the lead story this morning on the 'BBC Radio Oxford Breakfast Show' with Phil Gayle. This news item referred to a recent radio interview with John Taylor, former Managing Director of London Welsh, who was quoted as saying that the club were in active negotiations to look at the possibility of buying the Kassam. This information is incorrect."
"There is no doubt that we as a club have enjoyed a very successful start to playing our home matches at the Kassam Stadium," said CEO Tony Copsey.
"We have worked hard to begin bedding into the local community in Oxfordshire. Achieving an over 10,000 crowd at the recent Wasp's match, supports our belief that there is a good appetite for Rugby in the Oxfordshire area.
"However any talk of us as a club buying the Kassam, is premature at best.
"Our immediate focus is on Premiership survival and developing our club as a business to compete within the top echelons of English Rugby. Certainly any purchase of the Kassam in the future, if we remain in the Premiership, would be something we would consider, but not without consultation with many stake holders including Oxford United Football Club."