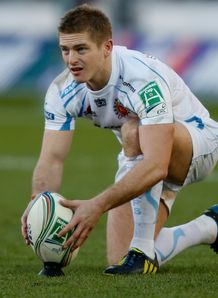 Related links
Teams
Exeter have confirmed two more of their senior stars have agreed new deals with the side as Brett Sturgess and Gareth Steenson re-signed.
Just days after full-back Luke Arscott committed his immediate future to the Sandy Park outfit, the prop fly-half have agreed similar two-year deals.
The announcement is yet another boost for coach Rob Baxter, who has made no secret of his desire to tie down the futures of a number of his players.
"Brett and Gareth have signed on, as well as Luke, so we are starting to get through the bones of a team, and what we have got together for next year is already looking pretty solid," he said.
"What we have to do now is pin down the last few guys we want to from the current squad, then make sure the guys we want to bring in are there for us and that we work hard on getting them in. Right now, though, I am pretty comfortable with where we are."
Certainly the fact that both Sturgess and Steenson are looking to prolong their stays in Devon will be music to the ears of the Exeter faithful, several of whom had been concerned by recent media reports linking both players - as well as Arscott - with moves elsewhere.
"A fair bit of linking with other clubs goes on, because there are a number of players out in the market, and directors of rugby look at the players who are available, and some they are interested in, and some they are not," added Baxter.
"There is always some kind of speculation, but the reality is if you are in the Heineken Cup, are enjoying what you are doing and having a decent Premiership season, you are in the box seat a little bit, and I think we feel we are a club where the players enjoy being.
"I think their first instinct is always to stay, but you just have to take your time and make sure it is a worthwhile situation for both the player and the club. Personally, I am really pleased to have Brett and Gareth on board, because these guys have been key members of the side right through from the Championship, and I would like to think they are still improving as players.
"I know no player has a great game every single week, but if you look at the course of their development over the three years we have been in the Premiership, you can see they are improving and that is vitally important to us. I am a massive believer in that you can't let things stagnate at a club and that's not the case with these guys, you can see they are still improving from being in both the Premiership and the Heineken Cup.
"As I said, they are important players for us and key members of the team, not just on the pitch, but also as strong squad members. They are good guys off the pitch, and whilst not everything goes to plan always, often the strength of your club and the squad is how your players manage those situations and these are guys who have been part of a club who have dealt with that very well."