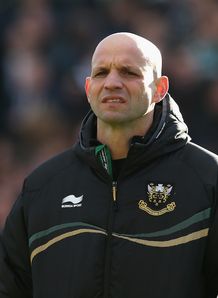 Related links
Teams
Northampton boss Jim Mallinder has accepted that Ryan Lamb deserved to be yellow-carded against Leicester for a deliberate block off the ball.
Lamb was sent to the sin-bin in the 76th minute as Northampton chased a rare win at Welford Road against their East Midlands rivals, but narrowly fell to a 16-12 defeat.
The incident was looked at by the TMO after being spotted by referee Greg Garner, who concluded that Lamb's action warranted a yellow card.
Given Northampton were increasing the pressure on Leicester in the final minutes, the timing was crucial, but Mallinder was not willing to criticise Lamb publicly.
"I think that was quite a fair call," Mallinder told the Northamptonshire Telegraph.
"I think somebody got that one right."
"What he did look to do was drop his shoulder a bit. If he'd have carried on on the same run he'd have got away with it.
"You can't do that and that was the right decision."
As for the result itself, Mallinder was frustrated with some of Garner's other decisions but content to come away with what may prove to be a crucial losing bonus point.
"We definitely wanted more. If you ever go with the mentality of just coming away with a losing bonus point, you're going to struggle. But we'll take the point," he added.
"I guess if you look at the overall picture, George Ford could have kicked some more goals and they could have been further ahead but we thought we just didn't get the bounce of the ball on a number of occasions and probably the call of the referee on a number of occasions."