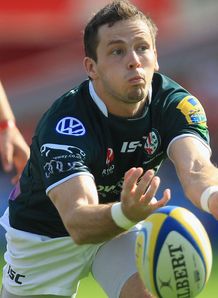 Related links
Teams
Darren Allinson is ready to battle for the scrum-half shirt at London Irish after missing the start of the season through injury.
The former Cardiff Blues player picked up an injury in pre-season against Munster, but returned off the bench in Irish's defeat against Harlequins last Sunday.
Allinson faces tough competition for the starting spot at Irish, after the club signed former Ireland scrum-half Tomás O'Leary over the summer. O'Leary has started all of Irish's matches so far this season, with academy product Jack Moates impressing off the bench.
Facing tough competition for a starting spot is nothing new for Allinson however, after eventually winning a positional battle over the past two seasons with former Irish and England scrum-half Paul Hodgson, who is now with Worcester.
"I was disappointed with the timing of my injury because I thought I was having a really good pre-season, and my form last season was good too," he said.
"There's always been a lot of competition for me at Irish and it is no different now, if anything it has intensified with Jack putting himself on the radar as well."
"I think we are all pretty similar in that we thrive under this sort of pressure - I know when Paul and I were here we really rose to the occasion of having two good scrum-halves at the team and it's no different now - if anything with three of us it's even more intense.
"It was hugely frustrating sitting on the sidelines when Irish were struggling because you feel like you ought to be out there helping - I know I, and Tomas and Jack all have a job to do to help us turn things around and I'm really excited to see how the rest of the season pans out."
Despite missing the first six weeks of the season, Allinson admitted he had been in contact with interim Wales coach Rob Howley, who gave him some encouraging support.
"I spoke to Rob recently and he said I would have been considered for the autumn if I hadn't been injured," he added.
"Obviously that's frustrating but at the same time it's a good morale boost for me because I think it demonstrates the fact I was playing well before I was injured and that hopefully I can get back there again this season."