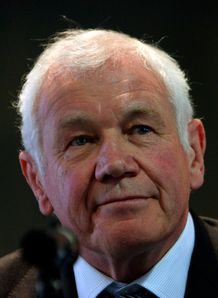 Related links
Teams
Also see
Tigers chairman Peter Tom has said that the 'ground-breaking' rights deal struck with BT could involve some games being broadcast free-to-air.
The shock deal - to take effect from 2013/14 - was valued at £152m, securing exclusive rights to the Premiership along with some European games.
What followed was confusion as Premiership Rugby and European Rugby Cup (ERC) met in Dublin and got nowhere despite hours of talks.
"BT have come into this with their eyes wide open," chairman Tom told the Leicester Mercury.
"And for Premiership Rugby, this deal is a ringing endorsement of our product with proposals that are very sensible across the board.
"There are proposals for some free-to-air rugby, and you suspect that may go through.
"With all of the different ways to view sport these days on phones and tablets and various social media, we feel that we have chosen a great partner in BT, who will be going out of their way to provide the best possible platform to show and promote the sport."