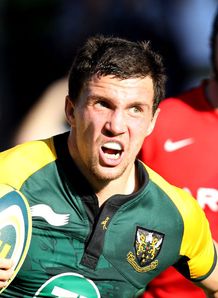 Related links
Teams
Northampton wing Vasily Artemyev is willing to sacrifice personal glory for the greater good of the Saints as they enjoy their unbeatean start to 2012/13.
Despite an electric start to his English career last season when he scored six tries in his opening three games, Artemyev has yet to score this term.
But the 25-year-old - who was the first Russian international to play in the Premiership - is part of Saints' much-improved start to the campaign.
"It doesn't bother me at all to be honest," he said.
"I have faith that the tries will come but it matters more that the team gets the results and that's what we've been doing.
"As long as I am involved in the team and playing regularly and contributing, that is what is important.
"I am sure that if I keep doing what I'm doing then the opportunities will come for me, I don't really think it's a case of the opposition know how to play against me.
"We've had three wins but we've had to show character because all of them have been very close right up to the end.
"Now we have two home matches. It's always nice to play at the Gardens but that does bring added expectation and pressure so we have to be at the top of our game."
Jim Mallinder's side take on Worcester this weekend and will be missing experienced England full-back Ben Foden, who is sidelined for several weeks with an ankle problem
But while Artemyev admits Foden's loss comes as a blow, he is convinced New Zealander James Wilson, who is expected to get the nod at full-back, can fill the void at the Gardens.
"It's a shame but there is a lot of competition for places," he added.
"Some players left last season and so maybe Northampton were not fancied by everyone this year but we have made a great start this year.
"James Wilson is a great player and he will come in and do a great job. We have a lot of strength in the backs and I think everyone who has played has done well so far."