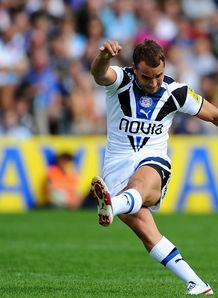 Related links
Teams
Coach Toby Booth was a happy man after a last-minute penalty from Olly Barkley gave Bath a fortuitous 24-23 win at Worcester.
Barkley was in a personal kicking duel with Andy Goode all afternoon, and it was with the last kick of the game that the former England star snatched victory.
Worcester were 15-6 up at half-time but Bath clawed their way back into the game thanks to Barkley's boot.
"It wasn't pretty. From where we were at half-time we did very well to bounce back," said Booth.
"We had no ball at all in the first half and Andy Goode's monster right boot kept pegging us back and we couldn't get out of our half.
"We showed great resilience to get back into the game and nick it at the end. At half-time we knew we had to adjust and it was a complete reversal of the first 20 minutes."
Worcester had only themselves to blame for failing to win. They squandered try-scoring opportunities and did not capitalise on all their possession and territory in the first half.
"We shot ourselves in both feet. It was a game that we should have won," said coach Richard Hill.
"We allowed them back into the game by conceding six penalties in a nine-minute period early in the second half which enabled them to draw level."
The refereeing of young Luke Pearce was a central factor in the game, which saw a penalty awarded at almost every ruck.
"The referee was particularly hot at players not rolling away from the tackle area and those penalties cost us the game," added Hill.
"Bath have the best defence in the league but we should have scored more before half-time and put them away."