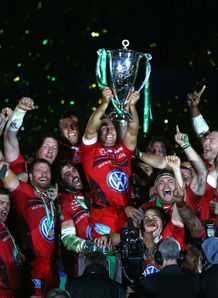 Related links
Also see
The new European Rugby Champions Cup is set to be sponsored by the same company which backed the competition it replaced.
According to a report in The Rugby Paper Heineken, who were the long-term title sponsors of the previous European rugby competition, will splash out around £4m-a-year to be associated with the European Rugby Champions Cup.
Heineken is the first major company to give their backing to the new competition, which is being organised by club-driven promoters European Professional Club Rugby.
EPCR are hopeful of securing sponsorship from four other major companies, with insurance-giant Allianz and Turkish Airlines believed to be among the interested parties.
Organisers hope that the five deals will bring in £20m-a-year, which will bee double the amount that Heineken paid to be the main sponsors of the old European Rugby Cup Ltd.
EPCR will pocket £28m from deals with BT Sport and Sky for British television rights and expect to add at least another £25m from French rights. They are also hoping that other broadcasting deals will bring in at least another £14m.
EPCR, which is dominated by representatives from the Premiership, Top 14 and PRO12, are hopeful of reaching their goal of securing £100m-a-year in total sponsorship ahead of schedule.
But with the French club season kicking off on August 16, and the Premiership and PRO12 getting underway three weeks later, organisers do not have much time to announce further sponsors.