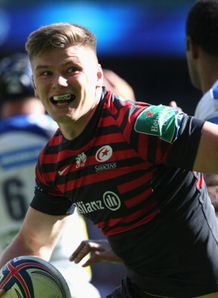 Owen Farrell remains unfazed by Saracens' Heineken Cup semi-final defeat to Toulon last year ahead of Saturday's showpiece.
The improving fly-half, who enjoyed a fine Six Nations campaign with England, says the loss to the French giants in the latter stages of the 2013 competition bears no significance this weekend.
"That defeat against Toulon is a long time ago now and it will be two different teams going up against each other at the Millennium Stadium," said Farrell.
"We made far too many mistakes in our own half against them last year. We learned from that, we have been a much better team this season and we have been progressing as a team and that why we are where we are now. "
Farrell will go up against the retiring Jonny Wilkinson, who continues to dominate the headlines as his time on the field draws to a close, and acknowledges the experience will be a "massive privilege".
"To play against him is a massive privilege. He took the fly half position to a new level and he's one of very few players who have come into the game and set his own standards," added Farrell.
"He's not lived by anybody else's expectations - he's set his own. There are very few people who have done that and there will be very few people who will do that in the future.
"When that type of player comes along it's pretty special. Obviously, everybody knows how special it is because of the career he's had."