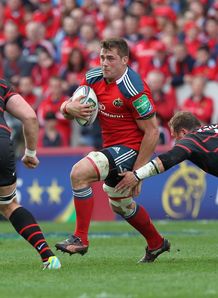 Related links
Also see
Munster's CJ Stander relished his first taste of knockout European rugby against Toulouse, but knows Toulon will be tougher.
Stander is set for a starring role following the loss of Ireland flanker Peter O'Mahony to injury.
"The game against Toulouse was quite open. I think this is going to be tighter and tougher, more big forwards to run into. But we've worked for this all year. This is cup rugby. We have to win this game. Everything is on the line, everyone is going to throw the kitchen sink into it," Stander told the Irish Times.
"It's cup rugby. You don't want to let the team down. Everyone has to do their part, and more. I have to. I need to play the best game of my life this weekend. That's not even a given."
"Coming off the bench, you think you might get 15 minutes but I got 62 minutes [coming on for O'Mahony] and it was great, a great atmosphere.
"Thomond Park was flying. It was great running on to that pitch and getting all that energy off the crowd.
"Thomond is just something else. You run out and you just see red all over the place and people are singing songs, like Stand Up And Fight , and you think, 'this is goosebump stuff'. These are the things you write back home about.
"If someone asked me near the end of last season I'd probably played about two games for Munster. And I may have thought of maybe moving on, but the coaches and players kept encouraging me.
Stander is a product of the Blue Bulls in South Africa but now at 24 will soon qualify to play for Ireland.
Having rejected the temptations of France, Stander remains loyal to the Irish province who brought him over from Pretoria, with the blessing of his father.
"He's a big Blue Bulls supporter, and he's also a big Springbok supporter. I sat down with him and said: 'There's about 20 guys in front of me here and Munster are giving me a chance.'
"Playing for Ireland wasn't even in the picture then. I just wanted to go overseas. He said: 'I will support you full on. You go and do your best'."