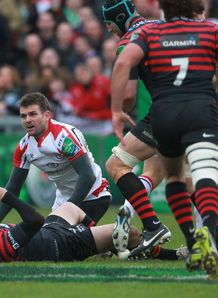 Related links
Also see
Ulster full-back Jared Payne has been suspended for two weeks for his dangerous tackle on Saracens full-back Alex Goode.
Payne has been suspended following an independent Disciplinary Hearing in Dublin on Wednesday arising from the Heineken Cup quarter-final match against Saracens at Ravenhill last Saturday.
Payne was shown a red card by referee Jerome Garces in the 5th minute of the match for an alleged dangerous charge on Goode, in contravention of Law 10.4(i)
Law 10.4(i) Tackling, tapping, pushing or pulling an opponent jumping for the ball in open play
Under the IRB Sanctions for Foul Play, Law 10.4(i) carries the following sanction entry points: Low End: three weeks; Mid-Range: six weeks; Top End: 12 to 52 weeks.
The independent Judicial Officer, Simon Thomas (Wales), heard evidence and submissions from Payne, Ulster director of rugby, David Humphreys, and Team Manager, David Millar, as well as from ERC Disciplinary Officer, Roger O'Connor.
In upholding the red card decision, the Judicial Officer determined that Payne had committed a reckless act and concluded that the offence was at the low end of the IRB sanctions for offences of this nature and selected three weeks as the appropriate entry point.
As there were no aggravating factors, and taking into account the player's clean disciplinary record and his exemplary conduct at the hearing, the Judicial Officer reduced the sanction by the maximum of one week and imposed a suspension of two weeks.
He commented that the case had been a particularly challenging one and conveyed his thanks to the Ulster representatives for the quality of their defence during the hearing.
Payne is free to play on Monday, 21 April.