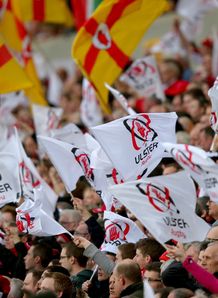 Ulster coach Mark Anscombe felt full-back Jared Payne should have been shown a yellow card instead of being sent-off against Saracens on Saturday.
Payne was sent off in the fourth minute for taking out opposite number Alex Goode in the air, with French referee Jérôme Garcès showing him red.
And that left a disappointed coach wondering what might have been as Ulster once again bow out of the European competition at this stage.
"When you lose a pretty important player five minutes into the game, you're always going to have your backs to the wall," Anscombe said.
"It's unfortunate. It was a collision in the air and did it warrant a red card? I think we're pretty hard done by there.
"Sometimes I think with these it's the emotion of the injury (that) creates the penalty, and I think at worst it was a yellow card. To have a red card four minutes into the game meant we were always going to be chasing our tails.
"I've got to take my hat off to the boys to hang in there and, to actually be taking the game to them and trailing 17-15 in the 80th minute, we've got to be really proud of their effort.
"Jared, the whole time, had his eyes on the ball. I mean, how's that a red card? I think that's the emotion of the injury," Anscombe added.
"You saw how difficult it was as, a couple of the tries they scored, we had numbers down. We went to the break at 9-5, which was a pretty good feat, and to keep it so close at the end... but that's the way it goes at times."