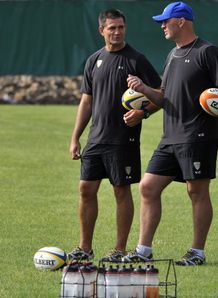 Clermont's entire squad were drug tested on Thursday ahead of their European Cup quarter-finals clash with Leicester on Saturday.
Testers from the AFLD (French anti-doping agency) arrived at the Clermont grounds on Thursday morning to carry out the surprise tests.
The mass testing was carried out before the morning training session and disrupted the entire day's planning, the club said.
Club captain Aurelien Rougerie was visibly irritated, saying that only four testers were on hand to take samples from 40-odd players, meaning the exercise took all morning and the squad lost valuable time.
Last year's European Cup finalists Clermont host Leicester at their Marcel-Michelin stadium where the French club are on a run of 74 consecutive wins.