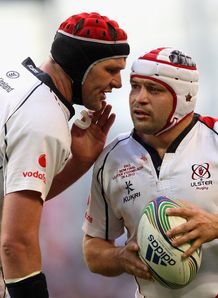 Ulster and Ireland hooker Rory Best knows his side's pack must front up if they are to beat Saracens in Saturday's Heineken Cup quarter-final.
Ulster were dominated in the tight when the pair met at this stage of the competition last year, and Best is determined that won't be repeated.
"Ultimately, if we don't, we can't win the game. If we don't get dominance up front we are going to struggle and that is something we pride ourselves on and something that hurt so much last year was that we got beaten up so badly," said Best.
"A lot of water has gone under the bridge. It was frustrating that we didn't even compete, but at half six on Saturday night it won't matter what happened twelve months ago.
"It is all about the two teams that are playing this season. They are by and large similar sides. We feel that we have come on a lot and they feel that through their experiences that they have come on too."
Indeed, Best was a major part of the Irish lineout that functioned so well during the Six Nations, winning 70 from 75 throws.
"You need to have a lot of confidence in your own ability as a line out unit and obviously we have massive confidence in Johann (Muller) as a line out caller and to make the right calls," added the hooker.
"Obviously you will throw in a few bits and pieces that you think will work well against them as opposed to any other team, but you can't react the way that some teams do around Saracens and that is to become flustered.
"You can't get through a season without losing a lineout. But what is important is how you react to losing a lineout. If we turn up on Saturday and lose the first one, we won't panic.
"We will then make sure that we do everything right for the second one and we just have to keep building from there. That is the attitude that we have got to have right across the board.
"We have to have the attitude that no one can play the perfect game of rugby. Even when you do well, there are still things that you can do better.
"When something doesn't go perfectly for us, we have to go to the next play and do it better and better and build momentum by doing that."