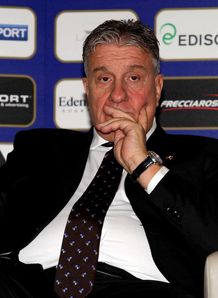 Financial concerns have delayed the signing of a new accord until possibly next week, as a solution for European club rugby edges closer.
Having now sorted out their own dispute over playing in the Pro12, for which Italian Rugby Federation had been paying €3m a season to be a part of but will now pay nothing to do so, the new worry for the Italians is that they will suffer as a result of the new qualification process.
With six sides coming from the Premiership and six from the Top 14, the Pro 12 is set to supply seven sides - but based on the highest ranked team from each of the four countries and then the next best three.
Whereas participation and therefore the financial income for the FIR has been guaranteed over the last few seasons with Treviso and Zebre/Aironi given places in the Heineken Cup, now only one of those sides is likely to take part.
For that reason the Italians have asked for more time to consider the agreement, after it had been previously hoped that the accord would be signed on Wednesday.
Otherwise the new agreement is ready to go, with BT and Sky Sports reaching a solution regarding the distribution of certain matches.
BT Sport will have the first pick for three matches involving English sides during each round of the pool stages. Sky will have first choice on three matches not involving English sides, before the rest are divided up.
Both broadcasters will show the final, one semi-final each and two quarter-finals.
The new competition, which seems set to run without a title sponsor, will be based in Switzerland and run by a four-man committee with a representative from each of the three leagues and an independent chairman.
Saracens chief executive Ed Griffiths was critical of the Welsh Rugby Union's behaviour in the drawn-out proceedings.
"I think some of the Welsh Rugby Union's behaviour has been erratic and unpredictable," Griffiths told the BBC.
"Maybe they've come round to see a little bit of sense."