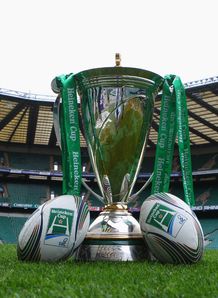 Related links
Also see
Reports suggest Europe's top clubs will benefit from what is set to be "the most lucrative club rugby tournament in the world".
The Telegraph reports that money-spinning broadcast and sponsorship deals are the priority for the tournament administrators, with the nine stakeholders due to sign a new accord replacing the Heineken and Challenge Cups by the end of the week.
The paper reports that, in the UK, a lucrative television agreement between Sky Sports and BT Sport to show the "Champions League-style" competition will be announced at the same time.
It is anticipated that the deal will at least match BT Sport's original offer to the Anglo-French breakaway coalition for the now-defunct proposed Rugby Champions Cup.
Alongside further lucrative television contracts for French and overseas viewers, revenue from broadcast should rise by over 50 per cent in the first year alone.
Indeed, the Telegraph also reports that interest from sponsors will significantly boost the value of the tournament, suggesting that the current turnover of £44 million could be doubled in the next five years.
For the English Premiership clubs, that means their annual take from participation in the competition will rise from its current £9 million to over £16 million. And the club bosses, alongside their French counterparts, are reportedly so bullish about the profits that they have guaranteed the first 20 million Euros generated will be meted out to the PRO12 sides.
"This new European rugby championship is going to become the most lucrative in world club rugby," Rupert Pratt, managing director of the sport and entertainment agency Generate, told the Telegraph.
"I would expect the sponsorship income would increase by two thirds or even double within two or three years. I would also anticipate the broadcast revenue to go up by at least 50 per cent and that is probably a conservative figure.
"The new tournaments also pave the way for expansion of the sport into other European countries which again will increase the commercial appeal.
"Rugby plays well to the stronger regions in Europe and also plays strongly to the business to business audience. It is not so big that it puts people off but it is focused enough around the commercial heartlands of Europe."