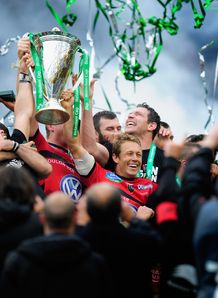 Related links
Also see
A new European rugby body is set to run a new 20-team European competition following a meeting in Paris on Monday, say reports.
According to the Guardian representatives from the six unions in the Six Nations and club officials from the Premiership, Pro12 and Top 14 have met to finalise the details of the new agreement.
The commercial side of the competition will be run by members of the three leagues. The profits will be split three ways between the leagues, with £20m guaranteed for the Pro12. There is as of yet no name for the new competition and a decision is to be made on a title sponsor.
The Premiership and Top 14 will both supply six teams to the new competition, with an extra club coming from either England of France. The final spot will be decided by a playoff, for example London Wasps v Racing Métro. The timing of this playoff could prove difficult with international sides embarking on tours to the Southern Hemisphere.
Seven more teams will then come from the Pro12 to make up the 20, with the highest positioned team from each country qualifying followed by the next best three in the league.
The Challenge Cup will also be made up of 20 teams, with two sides coming in from outside the Premiership, Pro12 and Top 14. There are plans for a third-tier competition for Tier Two nations but that is yet to be finalised.
Following a rollercoaster year of countless statements and counter statements, it appears a solution has finally been reached.
The one doubt however regards the TV rights, with BT and Sky Sports working on an agreement over a possible shared broadcast schedule.
European Rugby Cup Ltd, which has run the European game under the ERC title since 1995, will be wound up.