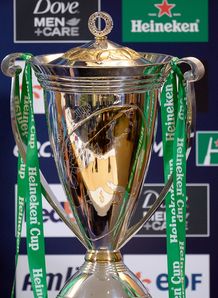 Related links
Also see
Reports suggest that after union and club representatives met on Wednesday, a European rugby broadcasting deal is to be struck.
The Daily Telegraph claims that BT Sport and BSkyB are set to agree shared rights to next season's pan-European competition, resolving perhaps the chief problem blocking the path of the formation of a new tournament.
While BT Sport signed a deal with the English breakaway clubs in 2012, who announced they would leave the Heineken Cup behind at the end of this season; Sky renewed their contract with European Rugby Cup, the administrative group that runs and promotes the tournament at present.
This dispute over broadcasting has proved an ugly sideshow to the spat marring European rugby; it seemed highly unlikely the Premiership clubs could participate in European competition given their signature on that BT deal.
The paper reports that negotiations "were continuing as to what each network would get out of any new deal, but how matches involving English clubs are divided up looks certain to be key".
And though there has been zero direct contact between the pair of sports broadcasting heavyweights, RFU boss Ian Ritchie has played the role of go-between.
The reaction to Wednesday's swiftly completed meeting was a positive one, with the general consensus that progress had been made. It appears rugby's administrators now await the two companies agreeing on a shared rights package before deciding on the comparatively straightforward issues such as tournament format, governance and revenue distribution.