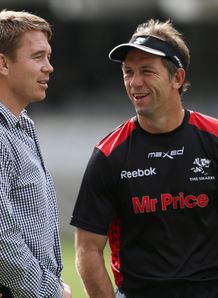 Related links
Also see
Whilst stating the prospect of a South Africa-European competition is unlikely, Sharks CEO John Smit believes the concept makes sense.
Smit, a former Saracens and Clermont hooker who lead South Africa to Rugby World Cup glory in 2007, was in the UK last weekend for the Sharks' pre-season friendly against Premiership side Saracens.
With the future of European rugby still not finalised as the English clubs remain left out in the cold, Smit added that while a global league would be unlikely given the travel time between Europe and Australasia, a competition between the South African teams from Super Rugby would not be unfeasible.
"There are a lot of competitions out there and they have been going for a long time - the Premiership, Currie Cup, Super Rugby and the Heineken Cup. None of them are broken, they all produce pretty good products," Smit told the Telegraph.
"But it's been a long time and if you need to look at what kind of change could add to the game in a positive way; that's what is bumping around in terms of European rugby at the moment.
"If the work done around qualifying in the Heineken Cup is to bring in other teams, that will only improve the game.
"Whether those are teams are from the Southern Hemisphere I can't say.
"But the only southern hemisphere teams that could enter are South African, because the others are too far away."
Smit underlined that he didn't expect the concept to go through, but that the option was there.
"In this cycle of TV deals both in Europe and the southern hemisphere my guess is it's not going to end up being be a north-south competition," added Smit.
"I think that it will end up as a renewal of the SANZAR and European competition in some form or other, but in due course I think it makes a lot of sense for South Africa to play north-south."