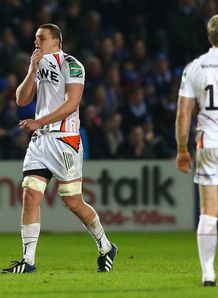 Wales lock Ian Evans will find out this week if he will miss the Six Nations as he faces a European Rugby Cup disciplinary hearing.
Referee Romain Poite sent off the Ospreys stalwart for allegedly stamping on Leinster counterpart Mike McCarthy during the first half of last weekend's Heineken Cup Pool One clash in Dublin.
The incident left McCarthy with blood streaming across his face and Poite gave Evans his marching orders after watching television replays.
Suspensions for a stamping offence begin at two weeks, with the upper-end punishment being anything between nine and 52 weeks.
Jeremy Summers of England has been appointed as the independent judicial officer for the hearing Which will be held in Dublin on Thursday.
Following Friday's game, Ospreys backs coach Gruff Rees said he was unsure about the incident.
"Perhaps it was a bit reckless, but there were a lot of replays needed to make a decision, which suggests it wasn't that clear and obvious," he explained.
"It took five or six times in slow-mo to isolate the incident. I don't know if that's clear and obvious from a red card point of view, and it changes the game.
"You have to be absolutely certain with a red card, and that there were so many replays and there are still so many differing opinions on it suggests that the clips may not have been totally conclusive."