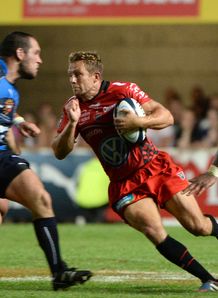 Jonny Wilkinson acknowledged the difficulty of Toulon's 15-8 Heineken Cup triumph over Glasgow Warriors at Scotstoun.
The fly-half kicked all of his side's points from the tee, and admitted the game was a gruelling contest.
"It was a really tough game," said Wilkinson. "We knew that was going to be the case.
"The ground was a bit wet, which threw up a few questions for us. We've had to fight at the end there - it's good to see a bit of spirit to hold on in defence.
"You get a feeling early on the game with the way it's going. You just try to find your way through to the end and be on the right side of the scoreline.
"We knew building up to it that it wasn't going to be like last week against Cardiff, with the sunshine in the south of France.
"We knew we had to come here and face up to it in defence, front up in the set piece and understand there was going to be a lot of selfless work to do off the ball, especially in defence."
"It's a good victory and we've got a much happier flight home now thanks to the win."