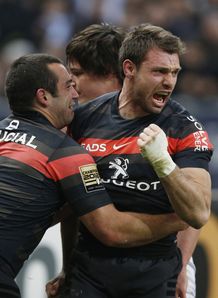 Related links
Also see
French international winger Vincent Clerc will return after nine months out with injury when Toulouse face Zebre in the Heineken Cup on Saturday.
Clerc suffered torn knee ligaments against Clermont in Top 14 action on April 20, 2013.
But head coach Guy Novès believes the time is now for his veteran finisher's return to rugby.
"We think the time has come after two matches in the reserves and he has started to take the brakes off," Novès explained to AFP.
"We do not expect Vincent to rediscover international form but it's important for him to get competitive matches under his belt even if he won't be making weaving moves throughout the match," added Noves.
Clerc is delighted to back in action for the four-time European champions and still has hopes of forcing his way back into the France international squad as well.
"For me, the most important thing is to refind my top level and play the big matches for Toulouse and put myself in contention for the France team," said Clerc earlier this month.
The speedy Clerc, who has scored 34 tries in 67 appearances for France, now hopes to help Toulouse defeat Zebre in Parma and guarantee a home tie in the last eight.