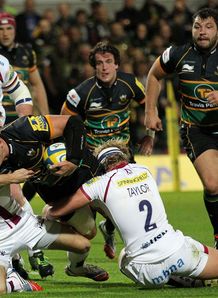 Sam Dickinson is adamant Northampton Saints would look to excel in the Challenge Cup should they drop out of Europe's top tournament.
Saints look set to fall short in their bid for a place in the Heineken Cup quarter-finals, needing a win over Castres on Friday before hoping results elsewhere are in their favour.
But Jim Mallinder's men do appear relatively assured of a berth in the latter stages of the Challenge Cup, with an away quarter-final on the cards.
And Dickinson claims he and his team-mates would not allow their continental enthusiasm to wane should they find themselves competing in the second-tier competition.
"It would be taken on as a brand new challenge," number eight Dickinson told the Northamptonshire Telegraph.
"It will be disappointing if we are out of the Heineken Cup, but we'll take that just as seriously and that will be the next target to win."
Of Saints' Heineken Cup campaign, Dickinson admits the side have been left disappointed by losses to Castres and Leinster, but states those defeats have offered something of a learning curve for the Premiership title-contenders.
"We've lost twice and it's not ideal," added Dickinson.
"It's a very tough group and you can't take anything for granted, but at the same time I think everyone's learned a lot from those losses.
"They've not been swept under the rug and hopefully that will push us forward as a squad."