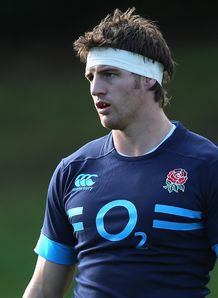 Northampton and England flanker Tom Wood will be fit for the start of the Six Nations despite sustaining a knee injury last Sunday.
Wood missed the entire Six Nations in 2012 when he was due to captain England in Stuart Lancaster's first season in charge.
A heavy knock to his knee during Northampton's win over the Ospreys had the 27-year-old momentarily concerned, but Wood has recovered and is now expected to face Castres this weekend.
"I had the joint rattled a little bit, right outside on the bony bit and that can switch everything else off,' Wood told the Telegraph.
"I was thinking 'Blimey, it won't work'. There was a moment or two of concern. The muscles had switched off but I wasn't falling over so the ligaments were there.
"There was some inflammation but it has settled. I was a bit lame for a while.
"They tested all the ligaments and bent it every which way. There was plenty of discomfort but plenty of tension there.
"I felt better today and had a run. As long as I don't have any major reaction to that I think I will be fine."
England scrum-half Danny Care is also expected to be fit for the national squad's training camp starting next week in the build-up to facing France on February 2nd.