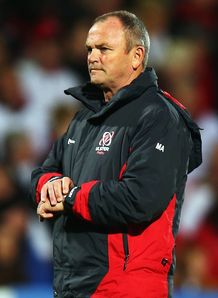 Ulster head coach Mark Anscombe is eyeing up a victory at Welford Road that would secure his side a home quarter-final in the Heineken Cup.
Despite the Ravenhill outfit having already qualified for the knockout stages after their win against Montpellier, top spot is up for grabs.
And coach Anscombe is expecting a titanic battle for that Pool summit when they take on Leicester Tigers on the Premiership side's home patch.
"They are the English champions, they have a great track-record in both their own league and the Heineken Cup so it's going to be a tough task," he told the Ulster Rugby website.
"It is one that we have to embrace and look forward to. For those guys that don't play international rugby, it doesn't come bigger than this. It's going to be a full house there and they bring their team home there in the same way that our fans do at Ravenhill, so that makes it more formidable. The fact is, if you are going to win the Heineken Cup, or even be a contender, you have to win big games in daunting grounds like Welford Road. You can't win the competition just playing at home."
An away win for Ulster would see them play at home in the quarters at a Ravenhill venue that should be completed to its new 18,100 capacity, a prospect that excites Anscombe.
"It is great with 14,000 in it - put another four or five in here and it would blow the roof off," he added.
"We know that we have a tough task but we are looking forward to it and we need to make sure that we go there and don't sell ourselves short. We have to really back ourselves and back what we do well and believe in ourselves to do well."
He added about the build-up: "We met this morning and had breakfast and did a review of the weekend's game and laid out a couple of the things that we need to look at this week."
"We need to make sure that we get the details right but we need to enjoy the week and to get excited by the challenge of what's in front of us. The media will blow it up and it's a big game but we need to realise that the challenge in front of us is daunting, but it's a challenge that we are more than capable of handling."