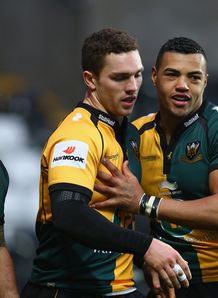 Related links
Also see
Northampton Saints wing George North has vowed that his side will throw everything they have at Castres to get five points.
Saints missed out on a try bonus point in their win over the Ospreys on Sunday and with Leinster winning in France must now rely on the three-time champions losing at home, whilst securing maximum points themselves, in order to progress.
North scored a spectacular try in the 29-17 win on Sunday and remained hopeful of progressing.
"From our point of view, we've got one game left and we are going to go flat out and try to get five points," said North.
"It has been a tough group for us to get back into after a couple of early losses, and it is now win or nothing for us against Castres. We've still got a chance of making it, and we will go hard until the end.
"The first-half was quite frustrating today. It was quite a slow game, and we needed to bump the pace up to how we wanted to play. I had a bit of space and time for the try, so it was happy days."
Northampton boss Jim Mallinder praised North for his special score, underlining the 21-year-old's quality.
"It was a quality try by George," said Mallinder.
"He is really settling in to the way we want to play. People say he had a slow start with us, but he did some brilliant things early on in the season.
"He's a quality player. I know he is young, but he is determined to improve and work hard at his game, which is what he's doing. He is playing for a good club, he's playing for Wales, and he is happy."
Mallinder added that whilst flying high in the Premiership, Northampton were not quite producing perfect performances week after week and that the lack of a try bonus point was frustrating.
"We are playing quite well at the moment, but tinged with a little bit of disappointment that we didn't go on and get the fourth try and a bonus point," added Mallinder.
"The quality of the Heineken Cup is there are six tough pool games, and you have got to be accurate in all six.
"If you look at Leinster, to win at Castres, Ospreys and Franklin's Gardens, they've deserved to do well in the group. We need that consistency in our performances."