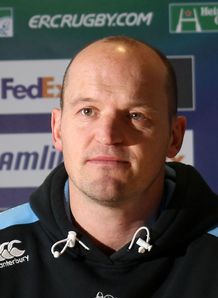 Glasgow boss Gregor Townsend acknowledged his side were still in the European hunt after their 15-10 win over Exeter.
The Warriors head coach knows Glasgow could be in line for a spot in the Challenge Cup quarter-finals as one of the Heienken Cup pool stage best runners-up.
"We'll have a good look at the rest of the results from the other teams over the next day or two," Townsend told Sporting Life.
"We knew that if were able to pick up a win here against Exeter, and other teams were to lose, then there could be a chance of getting into the Challenge Cup if we were to pull off a win next week against Toulon.
"But it was great to get the win this afternoon. We didn't play well, especially in the second half, but we hung in there and defended well throughout the 80 minutes. To win in England was also great.
"There were many mistakes in the second half, we were a bit rusty at the beginning of the game which you could say was natural as we haven't played many games over the past few weeks.
"But we picked it up, we did a lot of good things in attack in the second quarter. Exeter played well in the first half but both teams in the second half never really got into their game and it wasn't a good spectacle with too many mistakes."
The ex-Scotland international, who once held his country's record number of appearances, is under no illusions about the difficulty of next week's fixture, at home to champions Toulon.
"When you have Toulon coming and there is nothing to lose, and if we play like we did in the second half against them when the game was a wee bit away, that was some of our best rugby that we have played this year," added Townsend.
"We know how difficult it is going to be because they will be coming to Glasgow looking for a win to get a home quarter-final tie. They have great depth and quality throughout their squad but we believe we can play better."