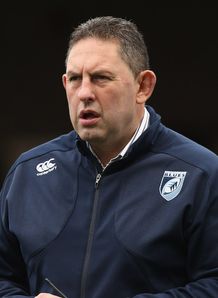 Cardiff Blues boss Phil Davies was left cursing his side's indiscipline as they fell to a hefty 43-20 loss in Toulon on Saturday.
Though Davies' men headed into half-time just two points behind, they conspired to concede three second-half penalty tries, and had four players yellow-carded.
"We played well in the first half. When it was 15 against 15 and we were in the game," said Davies.
"We knew we needed to start well in the second half and obviously we didn't with a couple of yellow cards.
"With the power they've got, it was tough for the boys but they kept going.
"That period after half-time probably changed the course of the game.
"As I said, at 15 against 15 we were pretty competitive. We looked pretty good but the cards cost us.
"The first half was excellent, although we're still disappointed with some of the penalties we gave away.
"We kept going, scored a couple of good tries and defended marvellously well at times.
He added: "I haven't looked at the cards yet, but it looked a bit heavy on one team.
"Their scrum was a good weapon but that's stating the obvious. They have a lot of power but, again, when we were eight against eight we had some decent quality ball.
"Toulon have a big squad, but over those four games we played against them we've done exceptionally well.
"For the young group we have, it will be good experience to lean on in the years to come."