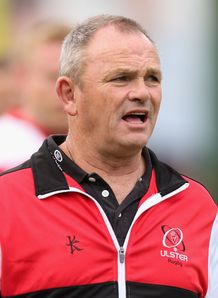 Related links
Also see
Ulster boss Mark Anscombe was full of pride after his side's famous 25-8 victory Heineken Cup at Montpellier on Saturday.
Ruan Pienaar led the charge with a 15-point haul via five penalties with Ulster's other points coming through an Andrew Trimble try and a penalty and a conversion from Paddy Jackson.
"I'm enormously proud of the boys today, of the way we stuck to our game," Anscombe said.
"We had talked about what we wanted to do and they did just that.
"The guys who started and the bench stuck to our plan. The defence was outstanding, we accumulated points, our kicking game was great and our chasing completed it to make it that way.
"To come here and beat them, and inflict their first home defeat this year, and by nearly 20 points - it's a pretty great occasion for our boys.
"A lot of our kicks were contested and we put them under pressure under those kicks, regained possession.
"That's what you want to do. They have a big team and we wanted to turn them around, prevent them from getting some go forward.
"We didn't want to give them early targets so they could put us on the back foot.
"We had looked at we thought we needed to do. They have a massive back and good backs, so the key for us was not to give them some front-foot ball.
"We wanted to turn their big guys around, make them work hard, make them have to get back to do the work. It can be hard for the big boys to do that and that's we achieved."
The result moves Ulster two points clear of Leicester at the top of Pool 5.
Montpellier failed to gain a bonus point and their coach Fabien Galthie admitted his players have left themselves in a "very tough position" to qualify for the play-offs.
"I knew that a team like Ulster was certainly capable of hurting us," he said.
"We played with a couple of young, inexperienced players who had never played at this level.
"It was one of those days where, if the smallest thing doesn't go your way, it can get pretty ugly.
"That was the case today, a lot of things didn't go our way.
"We are now in a very tough position for qualification. We have to be realistic, it is going to be complicated for us."