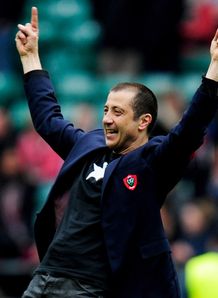 Related links
Also see
Toulon president Mourad Boudjellal says his club will not compete in the Rugby Champions Cup in protest to the LNR's proposed new laws on foreign players.
The Ligue National de Rugby and Premiership Rugby have announced plans for a breakaway European tournament involving French and English clubs but Boudjellal insists that the current Heineken Cup champions will continue to play in the ERC-organised competition.
The LNR has unveiled plans to further limit the number of foreign players eligible to play for Top 14 clubs and will give financial incentives to clubs that maintain a squad of more than 55 percent of players that graduate from French rugby academies by 2017.
The plans clearly do not suit Toulon's import-heavy squad and Boudjellal, in typical fashion, is using attack as the best means of defence.
"In the face of these despicable practices, which are racist and conservative, the club will take part in the H Cup next season since the ERC does not have quotas on foreign players, contrary to the LNR's ruling," Boudjellal told La Provence newspaper.
If Toulon to not adhere to the LNR's quotas, they face the possibility of reduced TV rights and marketing money from the national league.