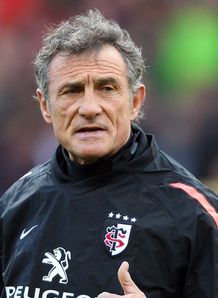 Toulouse coach Guy Novès believes his side must take points from their Heineken Cup Pool 3 clash with Saracens at Wembley on Friday.
The veteran knows that the French giants will need to up their performance after an anticipated bonus point home victory over Zebre last week, crediting Friday's opponents for their win at Connacht.
"We will have to be much more rigorous on Friday against Saracens, who won well at Connacht," he said.
"They already have that good result behind them, which means we will have to win at Connacht also.
"We are already under pressure, therefore, and it seems it wasn't that easy for them to come back from Galway with a victory.
"That shows how difficult our group is, and that the English are the favourites since they're unbeaten in the league as well so far this season."
The match is set to break the attendance record for a pool fixture, currently standing at 45,892 when Saracens went down to Leinster at Wembley three years ago.
Sarries Director of Rugby, Mark McCall, says his side are relishing the prospect of playing in such a fine atmosphere, and against such quality opposition.
"Everyone connected with the club loves playing at Wembley Stadium. It is a fantastic stage on which to perform," McCall told sportinglife.
"Under Guy Novès, Toulouse have been, and still are, one of the most consistent sides in European rugby for more than a decade, having won this competition four times.
"They have a very powerful squad, so the size of the challenge under the lights of Wembley is clear for all to see."