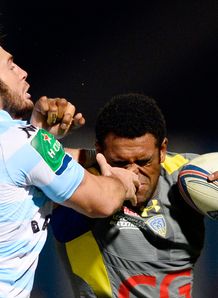 Clermont Auvergne wing Naipolioni Nalaga will not receive any further punishment for his use of the knee on Racing's Marc Andreu.
The citing complaint against Nalaga was upheld, arising from the Heineken Cup Round 1 match against Racing Metro last Sunday.
However, it was also decided that the yellow card shown to the player during the match by referee Nigel Owens was a sufficient sanction and therefore, Nalaga is free to play in Sunday's Heineken Cup Pool 4 match against Harlequins at Stade Marcel-Michelin.
Nalaga was alleged to have struck Andreu with his knee during the second half of the match at Stade Yves du Manoir in contravention of Law 10.4(a).
Law 10.4(a) Punching or striking. A player must not strike an opponent with the fist or arm, including the elbow, shoulder, head or knee(s)
The Judicial Officer determined that while Nalaga's lifting of the knee constituted reckless foul play, he did not regard the action as warranting a red card. He added that there was no intent on Nalaga's part to injure Andreu, and that Andreu's technique in the tackle was poor.
The Judicial Officer expressed his concern to Nalaga regarding the player's high knee-lift going into a contact situation before deciding to uphold the citing complaint, and not to impose any sanction.
Nalaga's citing drew a furious outburst from Clermont vice president Jean-Marc Lhermet earlier this week.