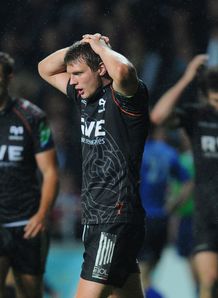 Ospreys back coach Gruff Rees question his side's decision-making at key moments after their 19-9 loss to Leinster.
The hosts raced into a 6-0 lead in Swansea but Leinster hit back with the game's only try through Man of the Match flanker Sean O'Brien.
It left the Ospreys chasing the game throughout the second half, with Rees highlighting how their desperation at times lead to mistakes.
"At key moments we made bad decisions. We were not smart under pressure, and they were the opposite. They did the right thing at the right time," said Rees.
"We worked really hard to try and get some attacking momentum but there were just some key moments.
"We had a penalty at 13-9 which we took quickly which was unforgivable, and it meant it went to 16-9 and we were back under the pump.
"We had a couple of opportunities where we could have turned the tables on them but we did not look after the ball, we were too shallow, too lateral in attack. It meant they won the race to the breakdown and they killed us there.
"We have got to pick up this week and have a training programme with the right amount of rugby detail, but also get a smartness and urgency into our game because at times we had no emotional control, which was disappointing."
Leinster boss Matt O'Connor was delighted with how his team responded to defeat against Munster last weekend, as the three-time champions got off to the perfect start by also denying the Ospreys a losing bonus-point at the death.
"The boys fought hard and addressed most of the issues that let us down last week against Munster and it was a pleasing result," said O'Connor.
"We were pleased to make sure they did not pick up a bonus point as it could be important. Cup rugby is about getting what you can out of each contest and making sure the opposition get as little as possible.
"It was a pretty intense contest, a great game of rugby. They had some key passages of play where they looked dangerous and credit to our guys as we defended incredibly well and made sure they came away with nothing.
"That was probably the difference in the end."