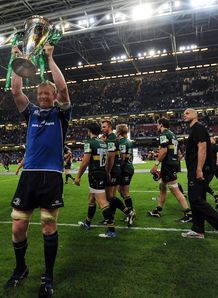 Northampton Saints chief executive Allan Robson believes that Pro12 clubs will join a European breakaway competition.
The English and French top-flight clubs will leave the Heineken Cup at the end of the current season, and have launched plans for a new cross-border tournament - The Rugby Champions Cup.
In joint statements released yesterday, the Welsh, Irish and Scottish unions confirmed their clubs would not be participating in any competition without "full approval" from the International Rugby Board (IRB) - the sport's governing body.
But Robson is adamant that the clubs themselves are keen to sign up for the new event.
"There's a massive chance [they will join]. Because that's what we want as well," Robson told BBC Northampton.
"I would like to think we'll have a European competition incorporating the sides that have been in the Heineken and Amlin Cups.
"But we do need them to agree. And if their unions are making the decision instead of the clubs and the regions, and I'm not saying they are, we need them to agree."
The English and French clubs have been unhappy with what they feel are unfair disparities in the qualification structure and distribution of revenue under the current format.
Robson believes the case put forward by the respective organisations (Premiership Rugby and Ligue Nationale de Rugby) that represent the clubs in England and France is a persuasive one.
"I believe we have made a compelling argument to the teams and their regions to take part in the competition we're structuring now," added Robson.
"If I'm right and it is compelling, then they will come in. But it has to be fair in terms of the competition qualification and financial distribution, and it has to have a sensible management structure."