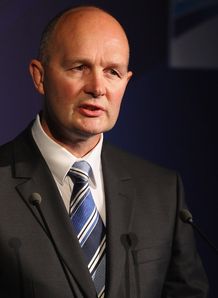 On Tuesday, ERC issued invitations to all signatories to the current European club rugby Accord to attend a meeting in Dublin on 23 October in an attempt to revive negotiations aimed at the formulation of an agreement for the 2014/15 season and beyond.
ERC is requesting that the key decision-makers from the Federation Francaise de Rugby, the Federazione Italiana Rugby, the Irish Rugby Football Union, the Ligue Nationale de Rugby, Premiership Rugby, Regional Rugby Wales, the Rugby Football Union, Scottish Rugby, the Welsh Rugby Union attend the meeting with the ultimate objective of finding a negotiated solution to the current impasse.
In a statments ERC said that "it was agreed at last week's ERC Board meeting that ERC would facilitate the process across a range of points of difference such as the share of central revenues, qualification criteria and format. To this end, ERC is compiling a shortlist of mediators to assist in the negotiations."
ERC Chief Executive Derek McGrath said the involvement of all parties in ERC's make-up is as vital now as it was in the early days of the organisation.
"The only forum which can provide the platform for all-party negotiation under the Accord is the ERC forum and any attempt to ambush or denigrate the discussions is clearly not in the best interest of these great European tournaments," he said.
"More than one year has passed since notice was served on the Accord and no proposal to date has received sufficient support to provide the basis for progress. This should not be seen as insurmountable, as agreement on European tournaments has always required compromise with an acceptance that no party will secure everything on their wish-list.
"The only way we ever made progress in previous Accord negotiations was by serious engagement on the part of all ERC decision-makers. The same positive approach is required now and it is hoped that all signatories to the Accord will dedicate their energy to the renewed process."