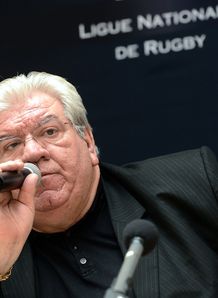 Related links
Also see
France's National Rugby League president Paul Goze has reiterated that French sides will not participate in the Heineken Cup next year.
Goze's statement comes after a pre-planned meeting between all parties in Dublin on Wednesday to discuss negotiations over a new format.
The LNR and Premiership Rugby have made a proposal to reduce the current number of teams from 24 to 20, along with reformatting the qualification for the tournament and financial distribution.
Goze is insistent on breaking away from the ERC and forming a new competition with the English clubs, unless significant changes are made ahead of the 2014-2015 season.
"We're not threatening not to participate in the European Cup - we're saying we will not participate," Goze told rugby365.
"We are taking a decision not to play in this competition in its current format. We think that there is no alternative.
"We asked for a revision of the current format of the Heineken Cup and some financial redistribution.
"It seems wrong that some clubs can qualify automatically, while in France, there is a genuine qualification process. We have done everything to try to change that, but without success.
"(The IRB) understands our message - and, besides, nobody can prevent us from establishing a new competition.
"We proposed a new platform that has not been accepted by the ERC. The English are on the same wavelength as us."
"If (the ERC) back off and we hear a new competition will be created with the format and the framework we have proposed (we will work with them).
"Our model puts everyone on an equal footing. The presidents of the Top 14 all gave us their approval, which is why we can stand together on this.
"I would not allow myself to do this alone. We will now meet with the English clubs to implement this new competition, and assess the work that remains to be done ahead of the 2014-2015 season."