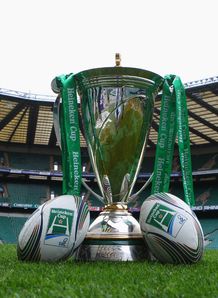 Related links
Also see
The ERC have confirmed that all parties, including the LNR and Premiership Rugby, are committed to a new agreement.
The futures of the Heineken Cup and Challenge Cup were thrown into doubt on Tuesday when Premiership Rugby released a statement detailing how the English and French leagues planned to form a new breakaway competition from next season.
"The English and French clubs have proposed the formation of two new, stronger competitions of 20 teams each, based on the principles of qualification on merit from each league, the inclusion of teams from all six existing countries and the expansion into new markets. These proposals could form the basis of future competitions," read the statement from Premiership Rugby.
However following a previously scheduled meeting in Dublin, where representatives from all six countries were present, the ERC confirmed that all parties were involved remained focused on establishing a new Accord.
"Despite recent reports, all parties involved in the formulation of a new ERC Accord, including the Ligue Nationale de Rugby (LNR) and Premiership Rugby, have reaffirmed their commitment to the process," read the ERC statement on Wednesday.
"A meeting focused solely on the negotiations will be convened by ERC as soon as practicable.
"It was agreed at a scheduled ERC Board meeting in Dublin that ERC would facilitate the discussions and that the current points of difference, including the share of central revenues, qualification and season dates, would all be on the table.
"The Board reiterated that European club competitions must be organised by ERC and that any purported cross-border club tournaments needed the approval both of the IRB, and of the relevant Unions who are shareholders of ERC.
"Surprise was expressed at the timing and content of yesterday's media announcements by the Ligue Nationale de Rugby (LNR) and Premiership Rugby, and representatives of both bodies were invited to explain their positions.
"It was pointed out that there was a range of proposals made by stakeholders, none of which were acceptable to all parties, and it was agreed that the negotiations towards a definitive solution needed to begin again in earnest."