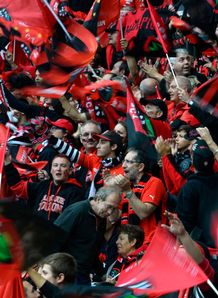 Rory Lamont has warned Glasgow that they should expect a hostile reception when they face Toulon in the Heineken Cup on October 13.
The former Scotland winger turned out for the French outfit from 2009-2011 before returning to Glasgow where he had begun, and later ended, his career.
As a result Lamont knows all about the atmosphere created at the Stade Felix Mayol - and it's not one that makes life easy for the opposition.
"This is a game that the Glasgow squad and fans have to really look forward to because it will be huge, something none of them are likely to have experienced before," Lamont told The Scotsman.
"It will be a completely different experience for even the seasoned professionals who have not been there before. I have never come across an atmosphere like it anywhere else in club rugby. The fans are incredibly vocal and passionate. I'd say that it was at the same level that you get with the Old Firm football in Glasgow. The rugby is that ingrained in the local people and means so much to them. It is a way of life. They are fiery in the south of France, quite confrontational, and that makes for an amazing experience as a player."
However, Lamont believes that if Glasgow can make a strong start to the match they can use the crowd to their advantage.
"It's great to have that support behind you, but there is also the potential for it to work in Glasgow's favour," he said. "I remember when teams got in the ascendancy against us early on, the French supporters turned on us quickly and let you know the performance was not good enough. In my second season there we were going for the play-offs and were heavily beaten away to Montpellier, and we went across at the end to thank the large number of fans who'd travelled to support us and were met with tons of swearing, plenty hand gestures and spitting.
"That can work in Glasgow's favour. It is an intimidating place, with a very gladiatorial feel, but if Glasgow can start well it's funny how that passion can turn around and the Toulon players will feel glad of the big fence around the pitch!"