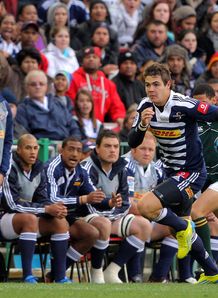 Related links
Also see
Munster have confirmed the arrival of South African winger Gerhard van den Heever on a two-year deal starting in November.
The 24-year-old Stormers wing will head to Ireland after his Currie Cup duties with Western Province have been completed.
For the last two seasons Van den Heever has played Super Rugby with the Stormers (26 appearances), and in 2012 he claimed a Currie Cup title with Western Province.
He has a total of 57 Super Rugby caps to his name having previously played with the Bulls from 2009 to 2011, in which time he enjoyed both Super Rugby and Currie Cup success. In making the move to Munster, the 98kg speedster joins his former Blue Bulls team-mate CJ Stander.
"Gerhard is a young guy that is capable of playing in multiple positions and he has committed to Munster for two years so he has an opportunity to build in becoming a Munster man just like BJ Botha and CJ Stander before him," said Head Coach Rob Penney.
"He is a wing, centre and full-back with a lovely kick and is exceptionally fast so he should be a great addition to the squad. We are very happy to have him coming to us and I know they are disappointed to see him go from the Stormers."
Van den Heever added that he is "looking forward to joining Munster."
"I am humbled by the trust shown in my character and ability to be granted the honour of becoming part of the Munster way of life," he said.
"I will work diligently to justify the faith put in me and I will do my utmost to make a purposeful impact at the club every day. For now I will focus on playing my part to assist Western Province in defending the Currie Cup title."