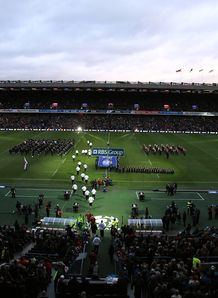 England, Scotland and Wales have submitted bid proposals to ERC to host the 2014 ERC European Club Rugby Finals next year.
The three national unions (RFU, Scottish Rugby and the WRU), each with the backing of Government and local civic and tourism authorities, have submitted bids for the showpiece weekend which annually features the Amlin Challenge Cup decider on the Friday evening followed by the final of Europe's premier club rugby tournament, the Heineken Cup, on Saturday afternoon.
The tender process for the 2014 ERC Finals, open to the six ERC Shareholder Unions, follows the recent withdrawal by the Federation Franšaise de Rugby (FFR) of their application to host the 2014 Heineken Cup and Amlin Challenge Cup finals due to the uncertainty regarding the conditions attached to the availability of Stade de France.
The bids will now be considered by the Board of ERC with a decision set for early July.
The venues being proposed for the 19th Heineken Cup final are Twickenham Stadium (81,500), Millennium Stadium, (74,500) and Murrayfield (67,000) while additional venues have been nominated for the Amlin Challenge Cup final.
Dublin 2013 was the third successive season that both the Amlin Challenge Cup and Heineken Cup finals were staged in the same city as a part of a European club rugby festival and research has shown that the economic impact to a host region for the Heineken Cup final alone can be well in excess of €30 million. Last month more than 22,000 overseas visitors were among the 70,000 fans that attended the two sold-out finals in Dublin.
"The ERC European Club Rugby finals weekend has developed into one of the truly great events in Europe's sporting calendar as is evident from the strong interest from our shareholder Unions," said ERC Chairman Jean-Pierre Lux.
"We look forward to working with the successful bidder and the local partners to build another memorable ERC finals festival showcasing the best of European club rugby."