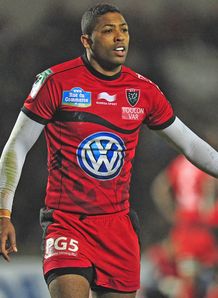 Related links
Also see
Toulon back Delon Armitage has expressed his regret over a dispute with pundit Brian Moore following the Heineken Cup Final.
Armitage was heavily criticised by several pundits and ex-players after his wave to Brock James on the way to scoring the winning try for Toulon against Clermont.
The incident was the latest chapter in a mixed career for the former England international, who admitted that he was sorry for the incident and the resulting dispute over Twitter with Moore during the following days.
"I made the error of replying to Brian Moore and that kicked off a bit. With hindsight I should have let him have his little dig at me and just got on with it," said Armitage to The Rugby Paper.
"I just lost my head a bit in trying to celebrate us winning and that was obviously disappointing. I shouldn't have reacted the way I did to Brian Moore, but for me it was just a bit of banter and Brock didn't take it seriously.
"There'd been a bit of niggle during the game and when they scored their second try to go 15-6 up a few of their guys were goading us, saying the match was over and that we might as well take our boots off and go home.
"I didn't see my wave to Brock as anything more than banter in return but obviously it upset a lot of people, especially some ex-players.
"The emotion of the moment probably got the better of me but it was just a bit of fun. There was nothing malicious and I've seen other players do it, but probably not in a Heineken Cup final.
"I've been getting a lot of whistles from opposition fans ever since, which doesn't bother me but is disappointing for my family to hear.
Winning the Heineken Cup capped an excellent first season in France for Armitage after his move from London Irish, with Toulon also reaching the Top 14 Final.
"People say you move abroad and absent yourself from your country, but for me personally, it's made me a better player and I wish I'd done it earlier," added Armitage.
"You're playing against international, world-class players every single week in the Top 14 and that can only make you a better player, so I disagree that moving abroad should count against people.
"If you're playing well in France, it makes you more confident. I think it's made me a stronger, better and smarter player and although England might not believe so, I think Wales and Ireland will benefit from having guys there."