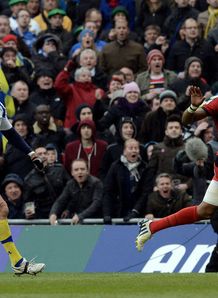 Related links
Also see
Delon Armitage concedes that his decision to mock Brock James as he prepared to score in the Heineken Cup final wasn't wise.
The Toulon full-back waved at James, Clermont's last defender, as he neared the try-line during Saturday's final, a move that has garnered great criticism, with players and fans alike taking aim at the Englishman.
On reflection Armitage acknowledges he probably should not have acted in such a manner.
"It was stupid celebrating before [scoring], but I was just so happy, to score in a Heineken Cup final," Armitage told The Telegraph.
"It was a dream come true. I knew straight away that I was going to score. There was no one in front."
Former England hooker Brian Moore was one of those who was angered by Armitage's actions, writing on Twitter: "If a player did to me what Armitage has just done I'd have to chin him after the touchdown."
While Moore was not alone in condemning Armitage, the 29-year-old took exception to his comments, replying: "Anytime you fat p****! Go write another s*** book", referencing the three books Moore has penned.
Not one to go down quietly, Moore responded: "Delon, at least I can write," before following his second comment up with "As @delonarmitage mentioned my shit double award-winning book - buy it here for the over-inflated price of £0.01," with a link to an online store.
Reflecting on his decision to turn his back on England and swap London Irish for Toulon, Armitage believes his move has been justified.
"Coming to Toulon, you do have doubts in your mind, wondering if you have done the right thing, leaving London Irish, not being able to play for England, but to win the Heineken Cup in my first season has got to rank right at the top in terms of achievements," he said.