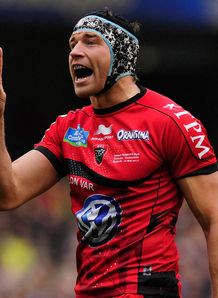 Toulon lock Nick Kennedy believes winning the Heineken Cup is the pinnacle of his career and feels justified by his decision to move to France.
Kennedy knew he was saying goodbye to his England ambitions when he joined Toulon from London Irish in the summer and he admits there were times when he wondered if he had made the right decision.
Initially he struggled to break into Toulon's star-studded side but he persevered and was in the starting XV for Saturday's 16-15 triumph over Clermont in Dublin.
"I have absolutely no regrets," revealed Kennedy.
"It is such an amazing feeling to win after everything.
"I had some difficult times this year and there were times I wondered if it was the right move - but lifting that trophy has justified it all.
"It is one of the reasons I came here, to win trophies. To win the Heineken Cup has been a goal of mine for years and to win it with these guys is amazing."
Saturday's result could so easily have gone to Clermont, who were dominant for most of the match. However, they lost their composure towards the end and saw a David Skrela drop-goal attempt charged down and Sitiveni Sivivatu wasted their final attacking chance with a forward pass into touch.
"They were clear favourites today all around Europe and I have so much respect for the boys. We showed so much heart, especially in that last five minutes," Kennedy said.
"Everyone was shouting 'drop goal, drop goal' because one kick and it was over for us. For Mathieu Bastareaud to get off the line after such a tiring game was great work."