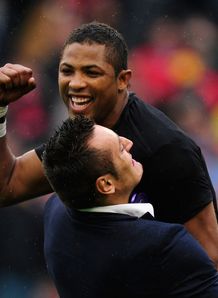 Toulon full-back Delon Armitage is embroiled in a row with past and present players after taunting an opponent in Saturday's Heineken Cup Final against Clermont.
Armitage scored the match-winning try which set up the chance for Jonny Wilkinson to kick the conversion that clinched a 16-15 win for Toulon in Dublin.
But the way in which the former England full-back waved at Brock James as he went over for his try has drawn criticism from former England hooker Brian Moore as well as Harlequins fly-half Nick Evans and Scotland duo Chris Cusiter and Max Evans.
Shortly after Armitage's try, Moore expressed his disgust with the 29-year-old's actions on Twitter.
"If a player did to me what Armitage has just done I'd have to chin him after the touchdown," he tweeted.
Armitage later sent a sharp and strong response to Moore on Twitter.
Other players also gave their opinions with Evans tweeting: "Delon Armitage better hope Toulon win after that. #noclass"
Cusiter tweeted: "Since when did the values of rugby include taunting an opponent in the act of scoring a try? Disgraceful."
And Max Evans wrote: "Surprised Armitage hasn't learnt a few things from such a class act in @JonnyWilkinson."
Armitage is no stranger to controversy having previously been arrested over an assault in a nightclub. He was also banned for pushing and verbally abusing a doping officer and served suspensions for punching Northampton's Stephen Myler and Bath's Dave Attwood in on-field incidents.