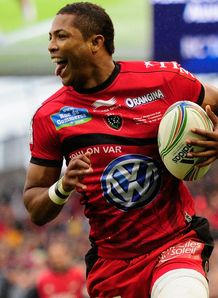 Delon Armitage stated that Jonny Wilkinson could have kicked the winning conversion from anywhere after Toulon won the Heineken Cup.
Toulon recovered from a 15-6 deficit to clinch their first European title after the two former England stars combined late in the second half.
After brilliant work from Juan Mártin Fernández-Lobbe at the breakdown, Armitage raced away from Brock James to score in the corner and hand Wilkinson the chance to create the lead.
"When I called for the ball I expected Sivivatu to be there but he wasn't," said Armitage.
"The moment it was popped up to me I thought this is my opportunity - if I can get the try we are back in the game.
"When I got to the 22 I looked around and knew I was in and then I thought I had to try and get as close to the posts as possible for the conversion.
"However, that was when I thought we have got Jonny - he will get it over from anywhere.
"We worked hard on our fitness this week and we knew that if we defended well for the first hour in the last 20 we could show our skills and Jonny put us in the right areas for that to happen."